Industrial mayonnaise emulsification mixing tank
Product Detail
Video
Product Tags
Industrial Salad Dressing/Mayonnasie Homogenizing Tank
PRODUCT PARAMETERS
The system design is simple, the operation is simple, and the height of the whole machine is more space-saving. The advanced mixing equipment ensures the uniform quality of the finished products. The system has diversified functions and can be matched with different designs, such as vacuum, jacket heating/cooling, multi-opening design of the kettle cover, sampling design, etc. All these make this equipment an ideal equipment for processing fluid materials. The system is flexible in design and can be customized and configured according to the needs of users in different industries.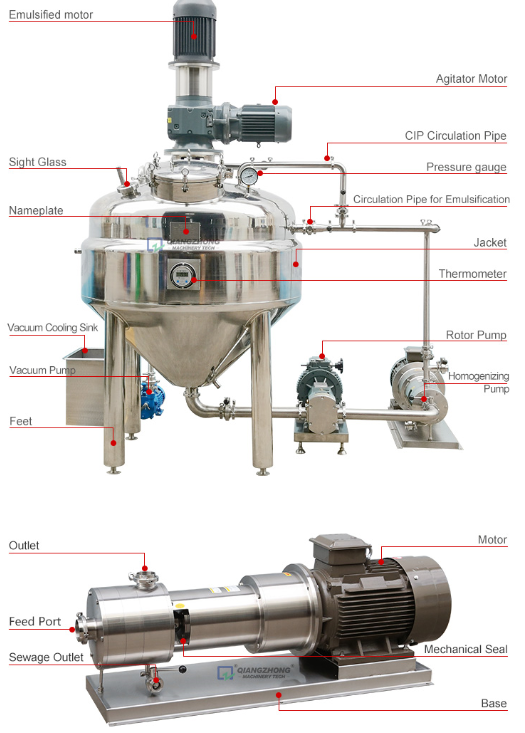 Shape and Basic Process
The external circulation homogenization system is the core, which integrates multiple functions of suction, pumping, dispersion, and CIP cleaning. The two-stage pump body allows the homogenization system to not only provide the power for material mixing, but also provide strong pumping capacity, which is also suitable for highly viscous materials. The external circulation homogenization system allows the water phase and the oil phase to be directly emulsified in the homogenization system and then pumped to the reactor for stirring, which can avoid the defects and deficiencies of the traditional process.
This is an efficient system that combines high-cycle processing capacity, uniformity of production material particle size, and high-efficiency emulsification and homogenization. The solid liquid can be directly added to the emulsifying head, and it is quickly and completely emulsified and dispersed to avoid agglomeration. In the CIP cleaning process, the external circulation emulsification pump system can be used as a delivery pump to provide high-pressure cleaning fluid for the CIP rotating spray ball.
1. The emulsified and dispersed phases are directly added to the working head.
2. The modular design of the pull rod is convenient for maintenance and disassembly.
3. Product circulation, CIP cleaning and discharge do not require additional pumps.
4. Freely choose whether the material passes through the emulsification cavity.
5. Better processing effect and shorter processing time.
The core emulsification system can be equipped with different feeding hoppers, pretreatment reaction tanks and discharge buffer tanks. According to needs, different heating or cooling devices can also be added. Steam can be directly introduced into the circulation pipeline to heat the material.
The system electronic control unit can also be customized, including simple button control and a PLC touch screen system with recipe control. We can also provide manual or fully automatic equipment as required.
Compared with the same type of equipment abroad, our friendly automated system can meet customer needs in terms of performance and it can also provide simple system experiments. We also have more advantages than them in terms of price; delivery time and after-sales service.
---
Previous:
Square homogeneous emulsification tank
---