Vacuum Emulsification Machine
Product Detail
Product Tags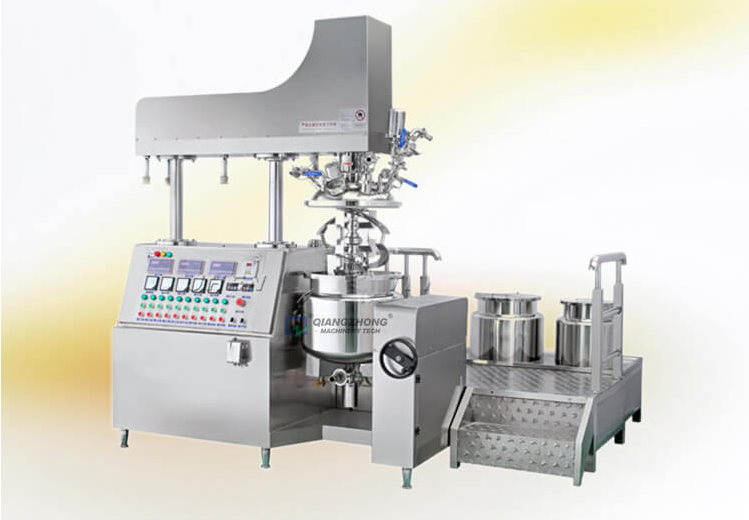 Product Parameters
Product Structure
Vacuum emulsification means that the high-shear emulsifier quickly and evenly distributes one or more phases to another continuous phase in the materials under vacuum. Thanks to the mechanically strong kinetic energy, the materials withstand hundreds of thousands of hydraulic shears per minute in a narrow gap between the stator and the rotor. Under the combined action of centrifugal extrusion, impact, tearing and turbulence, the materials are dispersed and emulsified instantaneously and evenly. After high-frequency cyclical reciprocation, finished products that are bubble-free, delicate and stable high-quality are finally obtained.

System Components
A Vacuum Homogenizing Emulsification Tank includes emulsification mixing tank, vacuum system, hydraulic system, electrical control system and operating platform . Emulsification mixing tank 's accessories : liquid inlet with stainless steel pipeline filter, solid inlet, vacuum port, compressed air inlet ,vacuum rupture , sight glass , temperature sensor , CIP device ,outlet and dustproof sterile breathing apparatus .
Typical Application
Suitable for not only production of cosmetics, such as ointment, cream, thick sauce honey and other products, but also production of high viscosity materials in the industries of pharmaceutical, food, fine chemical engineering, etc.
Product Features
●Part of material in contact with materials is made of SUS316L stainless steel, no dead corner. Both inside and outside surfaces are mirror polished, meeting GMP standard.
●Equipped with CIP cleaning system to simplify cleaning method, making the cleaning work easier and more efficient.
●Mixing system adopts double scrape side mixing and frequency control of motor speed, which can meet the production requirements of different processes.
●Vacuum deaeration can make the material meet sanitary aseptic requirements, and can adopt suction feeding, especially the powder can prevent the dust float in the sky.
●According to the process requirements, the tank can heat or cool the materials. The heating method can be steam or electric heating according to customer requirements.
●The advanced electronic control system adopts PLC control and is equipped with a true color touch screen to comprehensively monitor the data such as material temperature, agitation and homogenization speed, time, etc., real-time detection, recording, and printing of relevant data, and can import and export relevant data.
Stirring Paddle Type
Common Structure of the Stirring Paddle
We will select the appropriate stirring paddle type and stirring speed according to the characteristics of the mixing material and the user's process requirements.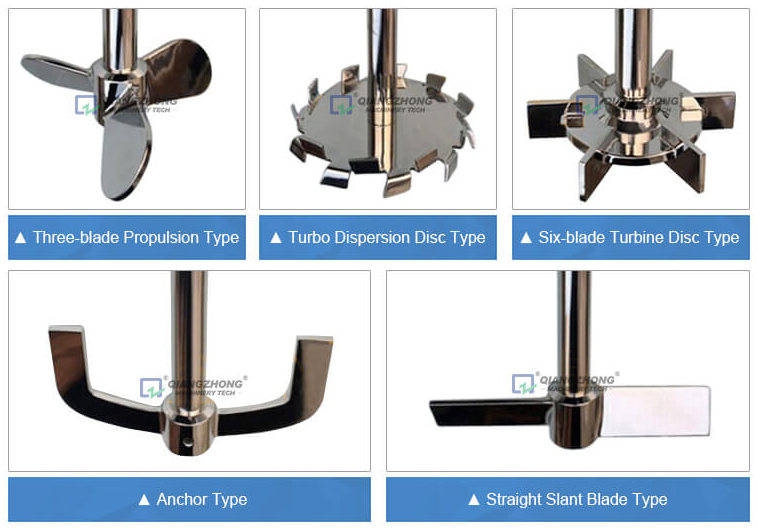 In addition to the above types of stirring paddles, some mixing tanks may also be equipped with a high shear emulsifier or a vane type dispersing mixer Its strong mixing force can quickly disperse and mix the materials.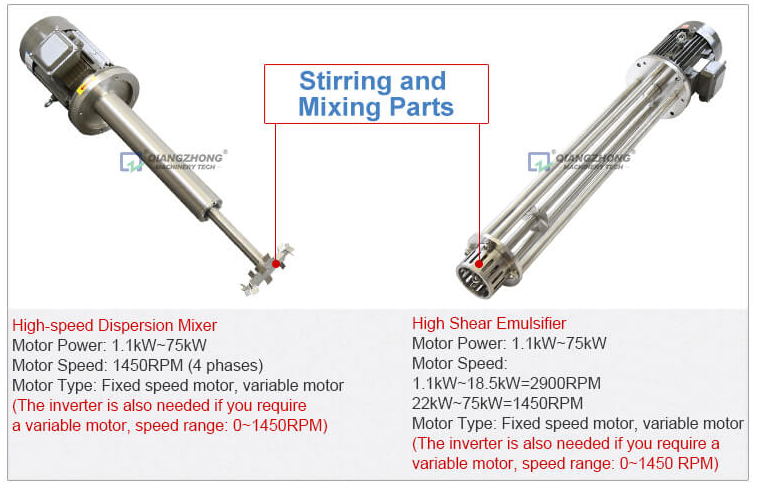 ---
Previous:
Biological Fermentation Tank
---