Stainless steel plate and frame filter with high shear mixer
Product Detail
Video
Product Tags
PRODUCT PARAMETERS
Model No.

Motor Power

Filter Pressure

Filter Size

Filtration Area

Filtration Medium

Water Flow

Layers of

Plates

Dimensions(L*W*H)

WBG-100

0.55(kw)

0.15(Mpa)

100(mm)

0.078(m2)

0.8(pm)

0.8(Vh)

10

680x310x580

WBG-150

075(kw)

0.15(Mpa)

150(mm)

0.17(m2)

0.8(pm)

0.15(Vh)

10

780x350x700

WBG-200

1.1 (kw)

0.15(Mpa)

200(mm)

0.34″)

0.8(pm)

2(t/h)

10

820x380x760

WBG-300

1.1(kw)

0.15(Mpa)

300(mm)

0.7(m2)

0.8(pm)

4(t/h)

10

920x500x900

WBG-400

1.1 (kw)

0.15(Mpa)

400(mm)

1.25(m2)

0.8(pm)

6(t/h)

10

1260x600x1120

WBG-400

1.5(kw)

0.15(Mpa)

400(mm)

2″)

0.8(pm)

9(t/h)

16

1350x600x1150

WBG-400

1.5(kw)

0.2(Mpa)

400(mm)

2.5(m2)

0.8(pm)

10(Vh)

20

1420x600x1180

WBG-400

2.2(kw)

0.3(Mpa)

400(mm)

4(m2)

0.8(pm)

13(Vh)

32

1588x600x1180
The frame filter is suitable for industries such as biological products, medicine, brewing, food and beverage, tobacco, water treatment, petrochemical, environmental protection, etc., for precision filtration, clarification sterilization, purification treatment, etc. It can also filter the injection, infusion and other liquids in the pharmaceutical industry with good performance. The filter can also filter by means of a filter layer formed by a primary filter layer or a filter aid (for example, diatomaceous earth, clay, activated carbon, etc.) to obtain a clean liquid. According to the different filtration accuracy (crude filtration, fine filtration) requirements of the filtrate, customers can choose different filter materials for different filtration precision; and increase or decrease the number of layers of filter plates according to the production volume.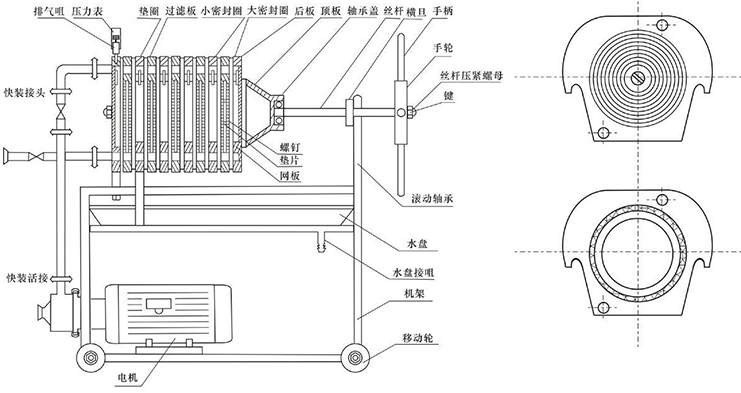 The filter has the advantages of less filtrate loss, large circulation, simple operation, convenient disassembly and assembly, and easy cleaning. The filter plate adopts a special structure of a flat threaded mesh shape, which is smooth and flat, and the filter material (filter cloth, filter paper, filter membrane) is not easily damaged, and can effectively prolong the service life of various filter materials, thereby reducing the production cost. The filter is equipped with a stainless steel pump, which has low motor power and low power consumption. The rubber wheel is mounted under the frame for flexible movement and light weight
PRODUCT STRUCTURE
Except the motor, the other parts of the machine are made of 304 or 316L high-quality corrosion-resistant stainless steel, suitable for filtering all kinds of PH value of the acid-base solution. The machine adopts pressurized airtight filtration, low filter loss, good filtration quality and high efficiency. The filter section is composed often filter plates, with a large filtration area and a large circulation volume. According to the production process requirements (preliminary care, decarbonization, particulate removal, semi-fine filtration, fine filtration) of the solution to be filtered, different filter membranes can be replaced, and the number of filter plate layers can be appropriately reduced or increased according to production flow requirements to meet the production needs. Therefore, this machine is a multi-use machine with a wide range of features. The filter plate adopts a plane thread mesh structure, which is an advanced structure, no deformation, easy cleaning, and it can effectively prolong the service life of various filter membranes and save the production cost. This machine is equipped with stainless steel infusion pump with a small power motor of power consumption. Rubber wheels are installed under the base for mobile use, flexible movement and easy operation.
This machine is a stainless steel multilayer frame filter press. It is suitable for the closed filtration of liquids with a concentration less than 50%, low viscosity, and low slag content to achieve the effects of fine filtration, decarbonization, and semi-fine filtration. It uses microporous membranes directly for sterile filtration. This machine has a large filtration area, large flow, and a wide range of applications, so it is widely used in pharmaceutical, chemical, food and other industries, especially for pharmaceutical
injections, liquid filtration, the effect is very good.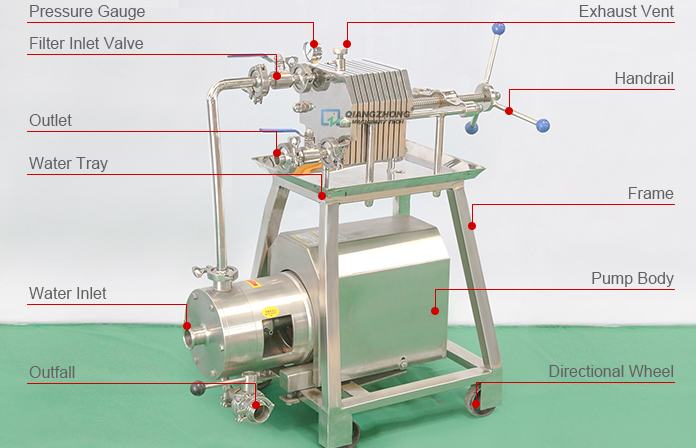 The design idea of the plate-type filter was inspired by the cardboard filter, and this filter is fine manufactured after innovation and improvement. The product has a novel appearance and practicality. It can fit various kinds of filter materials such as filter cloth, filter paper board, filter film, etc. It can meet the requirements of different precision, grades and filtration processes of many kinds of liquids.
Two inlet and outlet connecting pipes are used for the inlet and outlet ports, which greatly increase the flow rate and ensure that it is pressed evenly during operation. Two glass sights can visually observe the difference of liquids between pre-filtration and post-filtration; the pressure gauge above the feed inlet clearly shows the state of working pressure during filtration; the sampling valve above the discharge port can not only facilitate the sampling of liquid material after filtration, but also can be used to perform deflation and emptying operation at the time of turning on and shutting down the filter. but also can be used for deflation and discharge when turning on and turning off the machine. The tri-clamp connector is very convenient for installation and removal. The matching valve and fittings conform to ISO and other health standards and they are exquisitely manufactured and can be integrated with the pipelines in the workshop.

Film filter: The film filter material made of mixed fibers meets the quality standards, and its product surface is smooth, light and thin, with high porosity and uniform pore structure, so it has the characteristics of high flow velocity and low adsorption.
This product is suitable for the pharmaceutical industry, biological products, electronics industry, brewing, watches and other industries, and it can filter medical oil, lubrication oil, fuel oil, etc., filter bacteria and particles. It is also used for scientific research experiments, laboratory, etc. Generally it can remove 0.65um particles, bacteria below 0.45um.
Instructions for use:
•Place the filter membrane in a clean container and soak it in distilled water of about 70°C. After soaking it for about 4 hours, rinse it with distilled water of appropriate temperature before use.
•Put the cleaned filter (wet) into a suitable filter to prevent leakage from the surroundings. Put the filtrate from the inlet and discharge the air at the exhaust port, then the machine could work for filtration.
Polypropylene (PP) filter instructions for use:
•PP filter membrane is made of polymer material, non-toxic, widely used in medicine, chemical industry, food, beverage, alcohol and other fields.
•The PP filter membrane can withstand high temperatures up to 121°C. 30 minutes hot pressure disinfection, working temperature below 100 °C.
•The PP filter membrane has a good strength, no deformation, no media fall off, no re-contamination.
•First use 70% ethanol to infiltrate the filter for several minutes.
•PP filter membrane adapt depth filtration, resistance is small, fast flow. It is especially suitable for position difference filtering, such as achieving higher flow in low dropout conditions and long service life.
---
Previous:
Water and powder mixing machine
---