Single-wall Tank With Propeller Agitator
Product Detail
Product Tags
Product Description
Four corners of each filter plate of the frame filter have four liquid-passing corner holes, and only the two vertical corner holes are communicated with the inside, and the filter plate and the filter frame are alternately arranged (the filter plate is double-sided hole plate, filter frame is non-porous plate). During filtration, media is fed through two liquid-passage holes on one side of the filter frame. After passing through the filter layer (filter media), the clear liquid is discharged from the two liquid outlet corner holes on the filter plate side.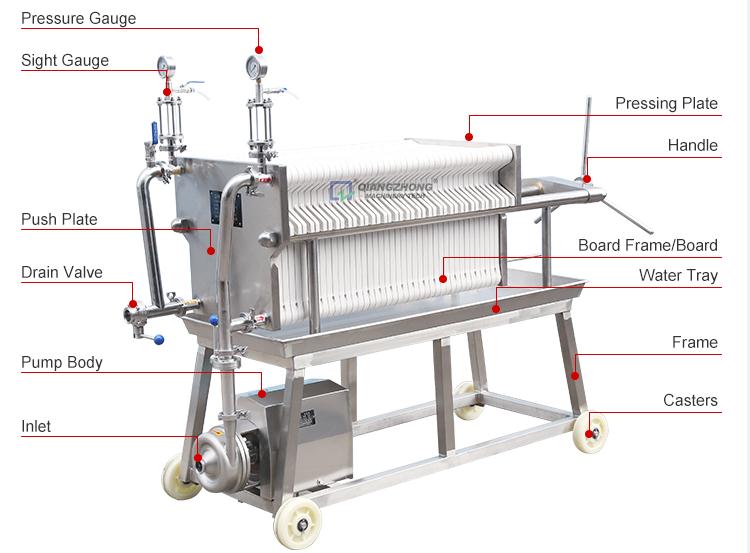 Product Introduction
The design idea of the plate-type filter was inspired by the cardboard filter, and this filter is fine manufactured after innovation and improvement. The product has a novel appearance and practicality. It can fit various kinds of filter materials such as filter cloth, filter paper board, filter film, etc. It can meet the requirements of different precision, grades and filtration processes of many kinds of liquids. Two inlet and outlet connecting pipes are used for the inlet and outlet ports, which greatly increase the flow rate and ensure that it is pressed evenly during operation. Two glass sights can visually observe the difference of liquids between pre-filtration and post-filtration; the pressure gauge above the feed inlet clearly shows the state of working pressure during filtration; the sampling valve above the discharge port can not only facilitate the sampling of liquid material after filtration, but also can be used to perform deflation and emptying operation at the time of turning on and shutting down the filter. but also can be used for deflation and discharge when turning on and turning off the machine. The tri-clamp connector is very convenient for installation and removal. The matching valve and fittings conform to ISO and other health standards and they are exquisitely manufactured and can be integrated with the pipelines in the workshop.
---
Previous:
Single-wall Tank With Propeller Agitator
---